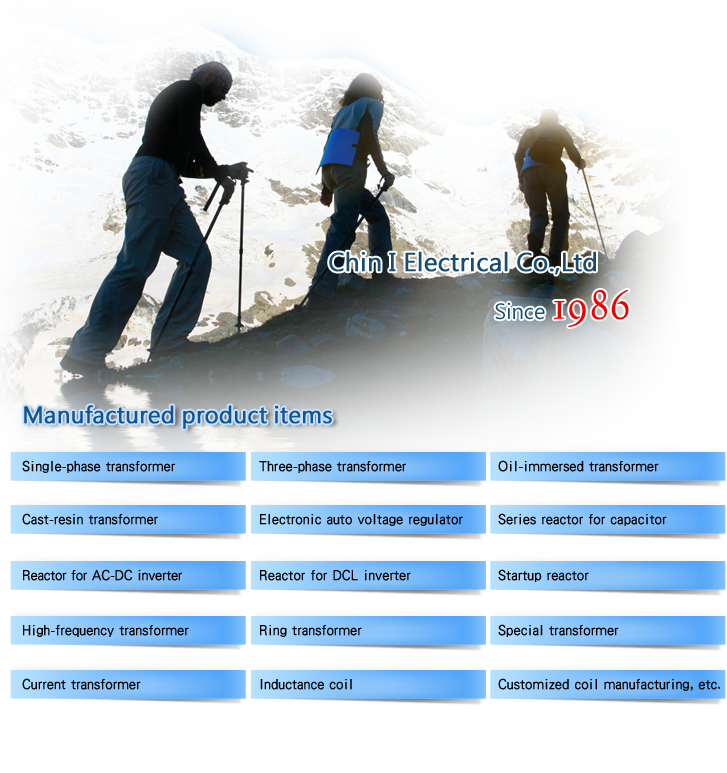 Chin I Electrical Co., Ltd. was formally established in July, 1986 in Xin-Zhuang District, Taipei.
Chin I Electrical is dedicated to the design and manufacture of voltage controlled products, in the spectrum of power transformers, electrical reactors and voltage stabilizers for customers in the automation machinery, CNC machine tools, high and low voltage switchgears as well as electronics industries.
Our service team and the most precise manufacturing facilities are equipped and located in Taipei, Taiwan and Ho Chi Minh City, Vietnam to provide the best control voltage regulators and product design services by our electrical expertise accumulated throughout the years. Chin I strives for product innovation out of constant research and development to deliver diversified power related products. Under strict manufacturing quality control, we have passed various international certificates, such as the ISO-9001 CE Safety Norms ETC green materials certificate for all machine lines production. Moreover, the raw materials procured for production are from vendors passed the UL SGS Environmental Protection Certificate to provide perfect and safe products. Under corporate operation mission, we strive for total customer satisfaction by meeting their strict requirements, with team efforts and insistence of service spirits, integrity, innovation and sharing philosophy; have become a world recognized transformer brand – Chin I Electrical.